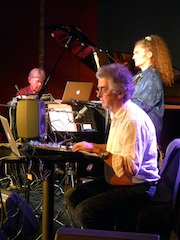 Upcoming/Recent
Roger Dean presents his solo MultiPiano show (piano, electronics, algorithmic piano, computer sound, real-time graphics) at Silence, in Guelph Canada on Saturday 7th May 2016. We are collaborating with Will Luers (video, USA: work image), and Keith Armstrong (installation and video, Australia) to create new works. We are also developing a new program, Time Moves, for presentation in our longstanding collaboration with the New Music Network November 20, 2016, Sydney Conservatorium. An earlier work with Luers, motions, is included in the 3rd international collection of the Electronic Literature Organisation (2016). Our contribution along with others has attracted attention in the Huffington Review. Hazel Smith's new volume of poems for the page, Word Migrants (Giramondo Publishing) was launched on 7 April 2016 at GleeBooks; she performed to an appreciative audience and Joy Wallace perceptively introduced the volume.
Roger Dean directed The Kinetic Jazz Orchestra at the Foundry, Sydney, in the premiere of his FiFu 2 (20160227): FiFu refers to the learning, memory, fission and fusion of live-created musical ideas. austraLYSIS featured at Riverside Theatre, Parramatta, in Sound Meets Text 20151208. We celebrated the 100th birthday of the eminent Australian sculptor Inge King on 26 November 2015: the documentary film A Thousand Different Angles (for which we provided some of the music) was on display at the National Gallery of Australia as part of a celebratory of her work (until February 2016). Torbjorn Hultmark premiered Dean's new composition Vocal Shafts for soprano trombone and electronics in the Being Human Festival (London, 20151116). The latest austraLYSIS Electroband CD, History goes Everywhere, Tall Poppies TP234 was released in late September 2015 (and a different version of one piece on it, Blue Bus is also published in Gangway). The first FiFu appears on the album. Other Recent performances: at Østre performance gallery in Bergen, Norway (201508: video tweet), featuring Hazel Smith; and at the Angst Gallery,Vancouver, Washington, USA (201508 : video tweet), featuring Roger Dean.
See also recent austraLYSIS info for more on other activities.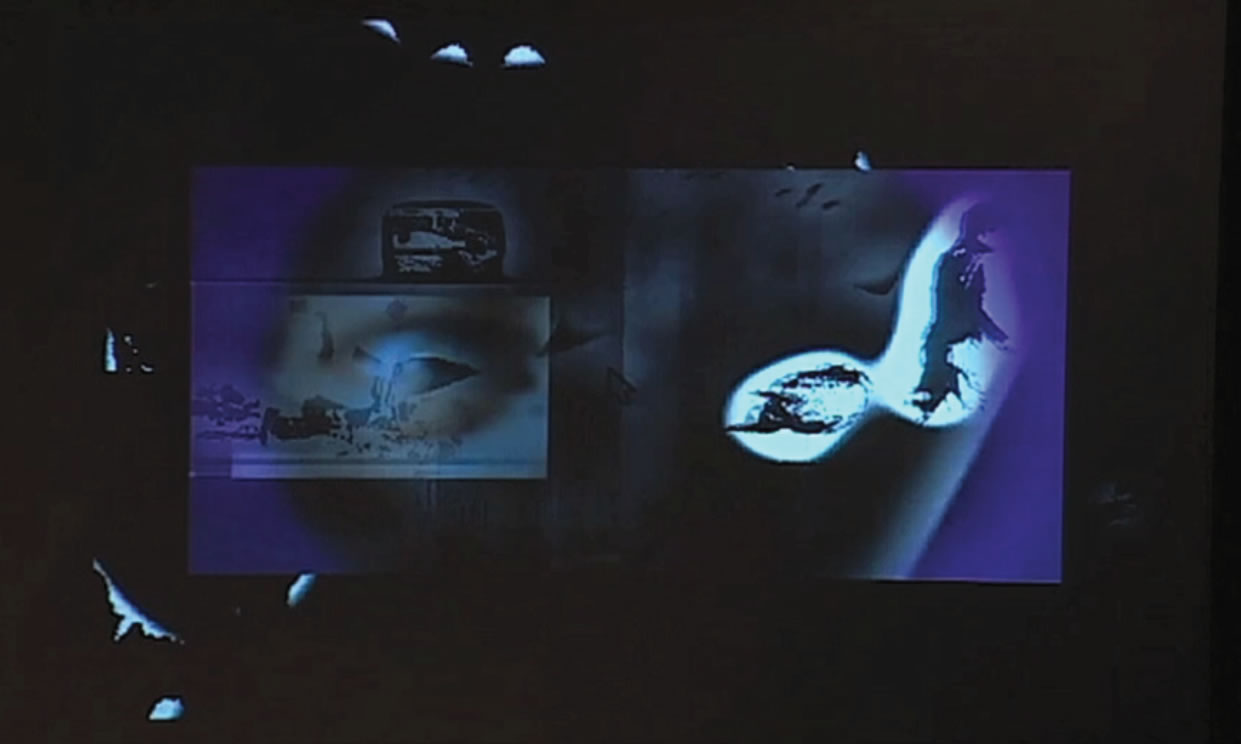 Some Recent Comments
Peter McCallum (Sydney Morning Herald online, 201411): 'created surprising meanings and juxtapositions against a complex sonic background ... Serial Meantimes by Andrew Milne and Roger Dean created a fascinating complex interaction of regular and irregular sonic patterns of textural virtuosity' ... [in summary:] It is a brave new world that hath such music in it.'
Michael Tucker (201305, in the European Jazz Journal), giving Dean's MultiPiano (2012) double-album 5 stars: 'a strikingly intelligent but also soulful pianist .... beautifully programmed ... [fashions] a densely-packed, yet once again lucid electroacoustic poetics of multilayered time ... retains deep albeit transmuted links with tradition... one of the most refreshing avant-garde releases – consistently as enjoyable as it is thought provoking – that I've heard in a long time'.
By austraLYSIS
Free Listening/Viewing ... Commercial Sales/Downloads .... austraLYSIS on YouTube .... SOMA releases ... You can BUY CDs economically from this site using PayPal ... 
Latest commercial releases: Double CD for purchase/download: Multi-Piano, Tall Poppies TP225 (Roger Dean solo and computer-interactive piano), reviewed by John Shand of the Sydney Morning Herald (2013): 'trail-blazing','willing grooves', 'earthy approach', 'surprising and disquieting', 'exquisite', 'crystalline or tumultuous', 'brilliant musicianship', 'exploding with vivacity'. ... LYSIS Reissue series compiles Cycles (1977), Dualyses (1978) and Superimpositions (1980), plus new material (2 CDs, SOMA 788) ... Dean's Loosely (1981) for improvisers' orchestra, on Kinetic Jazz 2011, Available online through Bamboozle. .... Recent(ly discovered!): LYSIS' 1987 performance of our commission, Omarama, by John Rimmer (Waiteata collection of New Zealand music, 2008). Available