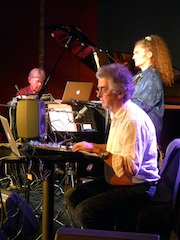 Current/ Recent/ Upcoming /in Sydney
April 2014, Dean performs with Evans, Slater and Barker at Kinetic Jazz, Sydney and presents new work for the Kinetic Jazz Orchestra... July 2014, Smith and Dean perform in Manchester UK for The Other Room. Later in 2014: Travels, Places a performance for the New Music Network (NMN). Recent: austraLYSIS presented for the NMN at Sydney Conservatorium: 20131130 Netting the Nodes, novel computer-interactive sound technologies, new work, and pieces by Dhomont and Xenakis (program notes ... crit) ...Dean performed and presented a Keynote talk on Interactive Sound (alongside Diemo Schwarz of IRCAM) in a Symposium at Nanyang Technical University, Singapore (201311). June 20 2013, Waterman's Arts Centre, London, Hazel Smith and Roger Dean presented creative work at ePoetry... Sandy Evans spoke on Radio National's Into the Music 20130519 (online for a while)... March 2013: John Shand of the Sydney Morning Herald on our MultiPiano album: 'trail-blazing','willing grooves', 'earthy approach', 'surprising and disquieting', 'exquisite', 'crystalline or tumultuous', 'brilliant musicianship', 'exploding with vivacity'.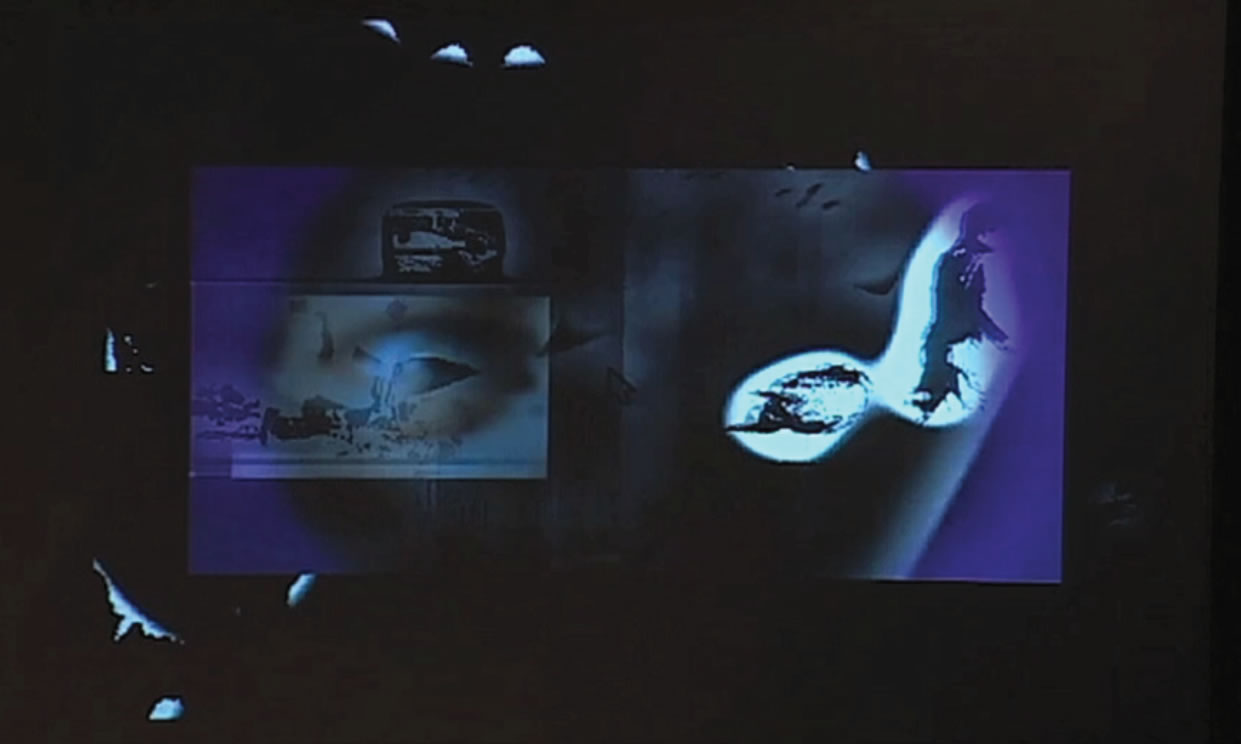 Current Work
austraLYSIS' video Collaboration with US artist Will Luers : New work Motions premiered Sydney 2013, aided by an Australia Council Digital and New Media Writing grant to Hazel Smith. Online/ebook release under development. Film of Sound (recent showings: ISEA, USA, 2012/09; Sydney 2013/03; Portland Experimental Film Festival, USA (20130520-26); also online in Cordite journal 2013. Translations:Hypnagogia (premiered 20130509 Sydney). . Luers became an overseas member of austraLYSIS (201303). ... Dean participates in an Australia Council/NBN grant (2012-13) with Keith and team to create Long Time, No See. (premiere at ISEA 20130615, Sydney) and since online for participation...next at the Cube, Brisbane (2014). ... Matt McMahon and Roger Dean formed Quadrilateral, two pianists at one or two pianos (premiere at Kinetic Jazz, 201301). Go to other current austraLYSIS info
By austraLYSIS
Free Listening/Viewing ... Commercial Downloads .... austraLYSIS on YouTube .... SOMA releases 
New: Double CDs for purchase/download: Multi-Piano, Tall Poppies TP225 (Roger Dean solo and computer-interactive piano, released 201209); and LYSIS Reissue series compiles Cycles (1977), Dualyses (1978) and Superimpositions (1980), plus new material (on 2 CDs,SOMA 788) ...EaRs, a live performance from Aarhus, Denmark, released on the new NMN 2013 Anthology double CD... Dean's Loosely (1981) for improvisers' orchestra, on Kinetic Jazz 2011, Available online through Bamboozle. .... New(ly discovered!): LYSIS' 1987 performance of our commission, Omarama, by John Rimmer (Waiteata collection of New Zealand music, 2008). Available from Sounz, NZ.